President Paul BIYA and wife – First Lady Chantal BIYA took part in the opening ceremony of the Global Fund's sixth Replenishment Conference on 9 October 2019. They were welcomed at the Congress Centre of Lyon by Donald Kaberuka, Chairman of the Fund.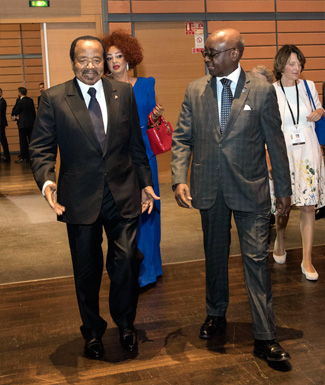 Speakers of the day were: Mr Gerard Collomb, the Mayor of Lyon; Her Excellency Professor Agnes Buzyn, French Minister of Solidarity and Health; Peter Sands, Executive Director of the Global Fund to Fight AIDS, Tuberculosis and Malaria; and Mr Pete Aguilar, Member of the U.S. House of Representatives.
Keynote addresses were delivered by President Roch Kabore of Burkina Faso and the President of Madagascar, H.E. Andry Rajoelina.
This was followed by high-level discussions and testimonies of three beneficiaries of the Global Fund's actions around the world. The Friends of the Global Fund Europe also organised a session with four Nobel Laureates who exchanged views on how to step up the fight.
The closing remarks was made by H.E. Jean-Yves Le Drain, French Minister for Europe and Foreign Affairs.
Heads of State, Heads of Government and Heads of Delegation attended a dinner offered by French President Emmanuel Macron to end the day.
Culled from the PRC.cm