Paul BIYA has granted a two-hour audience to the French Ambassador to Cameroon, Gilles Thibault. Both personalities met at the Unity Palace on Wednesday 8 March 2017.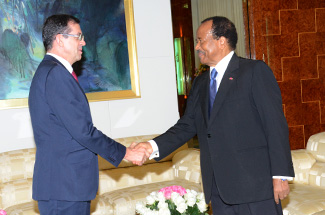 The Head of State and the French Diplomat held talks on a wide range of issues linked to the Franco-Cameroon relationship, which is part of the strategic partnership. Gilles Thibault told journalists at the end of the audience that they had in-depth exchanges on the importance of Cameroon's security, humanitarian and economic commitment in the CEMAC sub-region. The extraordinary summit of CEMAC Heads of State, hosted by Cameroon in December 2016, was reviewed following a recent IMF mission to Cameroon.
A special focus was also laid on the French Development Agency's aid to Cameroon. FCFA 125 billion have already been engaged for 2018. Ambassador Gilles Thibault said he congratulated President Paul BIYA on his efforts to fight against terrorism. He also lauded the successes of the Cameroonian Armed Forces in the fight against Boko Haram, in consensus with the Multinational Joint Tasked Force (MNJTF).
The French Ambassador to Cameroon briefed the Head of State on his tour to the various regions of Cameroon. "I also expressed my satisfaction to see an amelioration of the situation in the North West and South West regions, where dialogue seems to be producing good results," he said. It was revealed that the political scene in France is of particular interest to the Cameroonian leader, who is following the campaigns of the upcoming presidential elections.