President BIYA has met with Salaheddine MEZOUAR, Minister of Foreign Affairs and Cooperation of the Kingdom of Morocco. The audience took place on Friday the 8th of July 2016 at Unity Palace.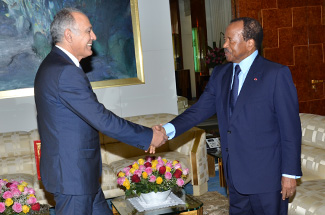 Speaking to reporters at the end of the audience that lasted over one hour, the Moroccan envoy said it was an immense pleasure and honor for him to meet with the Cameroonian leader to whom he handed a message from the King of Morocco.
Salaheddine MEZOUAR indicated that the audience was prove of the determination of the two leaders to revamp the cooperation between Cameroon and Morocco in the economic, social and security domains, so as to improve the living conditions of the people and to ensure a better future for the youth.
The Moroccan Minister of Foreign Affairs was accompanied to Unity Palace by the Moroccan Ambassador to Cameroon Lahcen SAILE and the Director General of the Moroccan Cooperation Agency, Abderrahim KADMIRI.
Culled from the Presidency of the Republic