Matthew Lee is a man of single-minded focus. For years, it served him well as an independent journalist covering the United Nations. But for the last several weeks, he's been banned from UN Headquarters for, according to the UN, going beyond the pale of acceptable behavior for a reporter.
The United Nations on Friday provided Lee with a letter informing him that the ban would be made permanent. The letter, signed by Alison Smale, UN Under-Secretary-General for Global Communications, said that Lee's "conduct has consistently breached" the UN's media guidelines and "does not meet the established professional standards required of all correspondents granted access to United Nations premises." As a result, his accreditation to cover the UN has been withdrawn.
"This is censorship pure and simply by [UN Secretary-General] Antonio Guterres who doesn't like my questions on corruption and Cameroon," Lee wrote in an email to BuzzFeed News shortly after receiving the letter.
Lee has long taken a different approach to covering the UN than many of his fellow journalists. Last week, many were lauding former Chilean president Michelle Bachelet's unanimous approval as the new UN high commissioner for human rights. "At UN Guterres Holds Press-less Press Encounter About Bachelet and Human Rights After Sold Out Cameroon," read the headline on Inner City Press, the website where Lee publishes his reporting.
He's been covering the United Nations since 2005, and for years was a constant presence in the room where the organization's spokesperson would brief the press daily. The questions Lee would ask were often esoteric, focusing on issues that were off the news cycle or flying under the radar. The stories he posts are unedited and often extremely discursive, and are generally focused on the nitty-gritty of the way the UN is run, highlighting possible corruption or other alleged malpractice inside the organization.
Lee has constantly tried to push the boundaries of access at the UN, arguing that the business of the UN should be as transparent as possible. That was the case on July 3, when two UN security officers removed Lee from the building. "I said, 'I'm a journalist what are you doing, I have every right to be here,' and they said 'no no no, no you don't,'" Lee told BuzzFeed News in a phone interview late last month. "So I feel like something is very wrong. Either they knew I had the absolute right to be there and they just didn't give a damn, or there's something totally wrong with the UN where they aren't told what the rules are."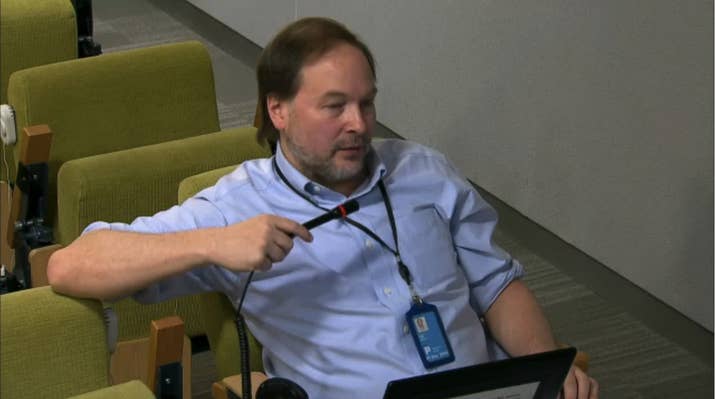 While Lee was being evicted and escorted off the premises — he livestreamed the end of the encounter on Periscope — his shirt was ripped.
He's since written several pieces for Inner City Press calling out one of the officers by name, and alleging that he'd been singled out for his reporting on the way the security force operates.
"It was like they saw an opportunity," he said. He also described the incident as his being "targeted by rogue security."
Since then, he's been banned from setting foot in UN Headquarters.
It was the latest in a long line of confrontations and clashes between Lee and the UN's staffers.
In 2016, Lee was found in a booth in the press briefing room as members of the UN Correspondents Association (UNCA), of which Lee is not a member, were meeting. That incident saw Lee escorted from the building and told he'd lose access to his (notoriously messy) office in the section of the UN reserved for the media.
He's been what's called a "nonresident" journalist ever since. That means that unlike the permanent members of the UN press corps, Lee had to sign in and pass through security every day, and, also, leave the building after working hours are done. It was the latter condition that got him in trouble, according to the UN.
The night he was removed from the building, he was spotted outside a meeting after hours, waiting for an open budget meeting to conclude, he says. Farhan Haq, a spokesperson for the UN, told BuzzFeed News the meeting was closed and not open to the public or press. He said and that Lee also attempted to access another off-limits area that evening.
Lee says, however, that his removal was an attempt to keep the workings of the UN from scrutiny.
"On two recent occasions, Mr. Lee violated [the UN's] Media Guidelines by attempting to access United Nations premises beyond the scope of his non-resident correspondent status and by confrontations with United Nations Security and Safety officials," a letter from Smale to the Global Accountability Project provided to BuzzFeed News during Lee's initial suspension read. "While you have characterized these confrontations as being unprovoked, the relevant facts do not support that characterization," the letter continued.
Smale has been a frequent target of Lee's vitriol since his ban first kicked off, as have Haq, Stéphane Dujarric, the spokesperson for Guterres, and Guterres himself.
In an attempt to get back into the building, Lee, who is also a lawyer, filed a complaintwith Guterres that asserts that Smale and Dujarric "engaged in prohibited conduct, including harassment and abuse [sic] authority towards me." He also urged Smale to recuse herself from the investigation.
The UN's Department of Public Information and Department of Safety and Security, which led the review, "have been reviewing a number of incidents [related to Lee] over the past two years," Haq said earlier this month.
It's "ridiculous that there's been any efforts to curtail his access," Haq said. "There's been times where he's just declined to understand that doesn't mean unlimited access."
While awaiting the final decision, Lee parked at a bus stop on First Avenue, across from the Delegate's Entrance of the UN, using passing busses for their Wi-Fi. He's also been working to get his story out, posting nonstop and Periscoping from outside the building in a sort of rolling live shot that he later uploads to YouTube. Last week, he shouted questions at the French mission's political coordinator about the plight of refugees from Burundi. He was ignored.
Some of Lee's Periscope videos are less structured than others. In a late-night shot, taken outside Guterres's residence in early August, he flat-out accused Dujarric of ordering that Lee be "beaten" by the security officers. He has provided no evidence to prove this charge.
In the same video, Lee calls the Department of Public Information "sleazy" and refers to Guterres as "disgusting." In recent tweets, focused on Cameroon's lobbying of the UN, he's added Guterres to the list of people responsible for ordering his ouster. Haq firmly denied that the matter reached up to the Secretary-General's level.
Culled from BuzzFeedNews