FIFA has unanimously decided the World Cup will be expanded to feature 48 countries from 2026. The football body's ruling council said on Tuesday the tournament would see 16 groups of three nations.
Approval for the increase from 32 teams meets President Gianni Infantino's election pledge to expand the World Cup and could help fund extra money for FIFA's 211 members.
It will mean the current tournament format of 64 matches increasing to 80, which FIFA has forecast will equate to $1bn (£823m) of extra income from broadcasting and sponsorship deals as well as ticket sales. The 2018 World Cup in Russia is expected to generate $5.5bn (£4.5bn) in income.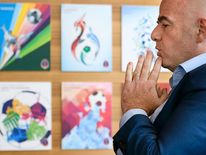 FIFA's six confederations will find out in May how many extra places they will get for the competition. UEFA has said it wants 16 European teams in the 2026 tournament, which will likely be held in North America.
The CONCACAF region – which also includes Canada and Central America – has not hosted the World Cup since it was held in the US in 1994. Football bodies from the US, Canada and Mexico have held initial talks about co-hosting a bid for 2026.
Africa and Asia could also benefit from the expansion, with up to nine places each. Africa had five and Asia only four at the 2014 World Cup.
But FIFA has admitted it expects the standard of the tournament to drop with an additional 16 teams. In a research document sent out to members last month, it said the "absolute quality" of play – defined by high-ranked teams facing each other most often – is achieved by 32 teams.
Three-team groups mean one country will be left idle for the final group matches, and concerns have been raised over collusion between the two remaining teams. FIFA has said it could guard against result rigging by introducing penalty shootouts if group games end in draws.
Culled from Sky Sports News